FESTIVAL OF WOMEN AUTHORS
Virtual Literary Event on Saturday, February 6, 2021 from 9:45AM-12PM PST 
*This event will take place virtually until public health concerns have lifted*
Join us for authors and their stories.
REGISTRATION HAS CLOSED ON FEB. 5TH, 1PM PST.
Raffle Tickets may still be purchased until 10AM PST day of the event (FEB. 6th, 2021).
If you have any questions or concerns about registration, please refer and email to info@ywca-berkeley.org. Thank you.
*If you have not received an email for how to access the event. Please check your spam folder for the Zoom Login information.* 

We appreciate your continued support of this fundraising event for our YWCA during this challenging year even though we cannot gather in person.
** $30 per reservation **
Door Prizes
$20 for six tickets / $10 for three / $5 for one ticket.
Winners will be drawn during the event!
Additional tax deductible donations accepted.

2021 Registration for 27th Annual Festival of Women Authors:
Click Below to Purchase Raffle Tickets (Donation)

Click Below to Make a Tax-Deductible Donation

Authors:
Megan Stielstra is the author of three collections, most recently The Wrong Way to Save Your Life, winner of the 2017 Book of the Year Award from the Chicago Review of Books. Her work appears in the Best American Essays, New York Times, Chicago Tribune, The Believer, Tin House, and on National Public Radio.
She is a 2020 Shearing Fellow at the Black Mountain Institute in Las Vegas and a 2021 Civic Media Fellow at the Annenberg Innovation Lab at the University of Southern California, and teaches creative nonfiction at Northwestern University.
Meredith May spent sixteen years at the San Francisco Chronicle, where her narrative reporting won the PEN USA Literary Award for Journalism and was short-listed for the Pulitzer Prize. Her memoir The Honey Bus, about her beekeeping childhood with her grandfather in Big Sur; was sold in eighteen countries and translated into eleven languages.
Meredith is a former professor of journalism and podcasting at Mills College in Oakland, CA. She is a fifth-generation beekeeper, and lives on ten acres in Carmel Valley, where she cares for several beehives. She's currently working on her next book, Loving Edie, about her golden retriever puppy Edith who has extreme anxiety.
In partnership with Pegasus Books, please consider purchasing books at one of their three locations in Berkeley and Oakland or online at: www.pegasusbookstore.com.
Our NEW Festival of Women Authors merchandise is now available on our online store!
Check out our Glossy Magic Mug ($19) and our Unisex T-shirt ($27) to support the YWCA Berkeley/Oakland's programs!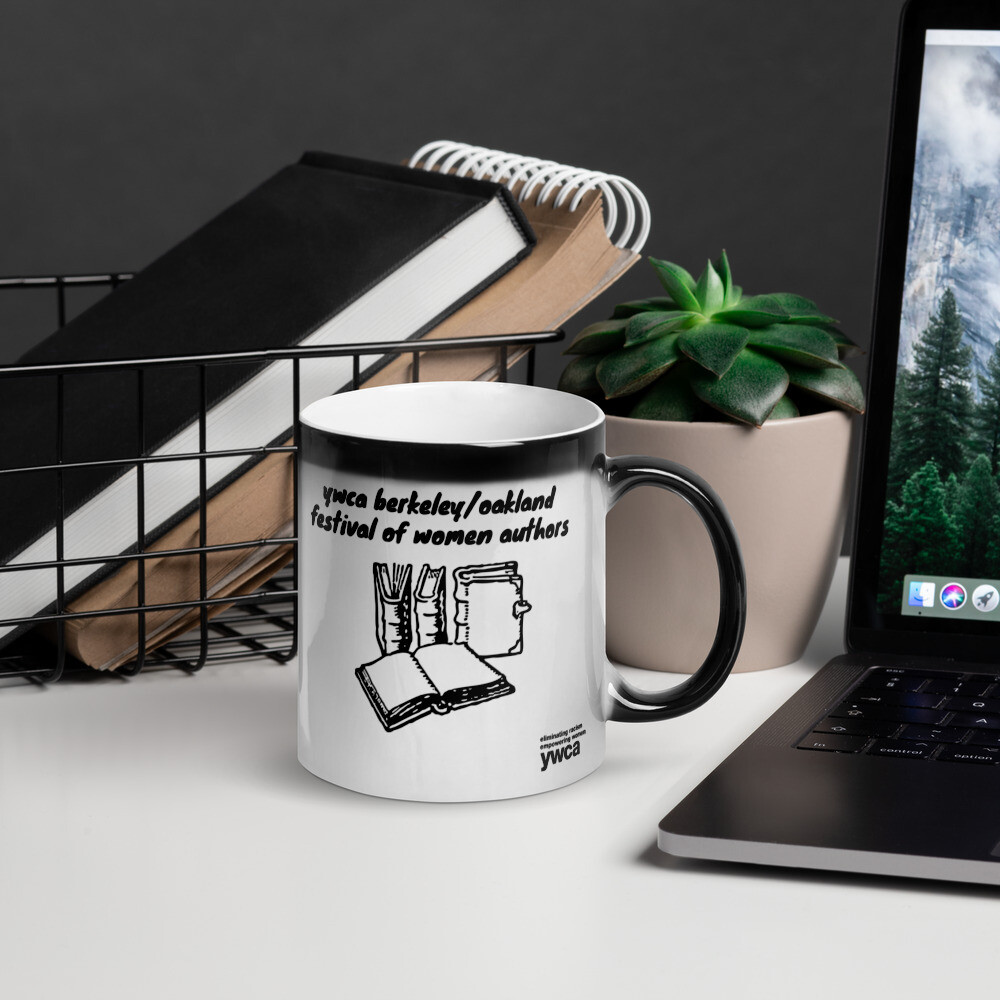 Download the 27th Annual Festival of Women Authors Brochure
Download the 27th Annual Festival of Women Flyer 
Authors in Past Years:
1995
Bebe Moore CampbellAnne Lamott
Joanne Meschery
Belle Yang
1996
Octavia Butler
Ursula Hegi
Adair Lara
Marcia Muller
1997
Marybeth Bond
Dorothy Bryant
Terris Grimes
Gail Tsukiyama
1998
Chitra Divakaruni
Regina Marler
Frances Mayes
Sister Carol Anne O'Marie
1999
Margaret Cuthbert
Ruthanne Lum McCunn
Caroline Paul
Judith Merkle Riley
2000
Ella Leffland
Emmy Werner
Terry McMillan
Laurie King
2001
Dorothy Allison
Liza Dalby
Elizabeth Kim
April Sinclair
2002
Marion Cunningham
Terry Ryan
Rebecca Walker
Ayelet Waldman
2003
Wendy Lesser
Ruth Ozeki
Susanne Pari
Lalita Tademy
2004
Iris Chang
Elizabeth Fishel
Jane Juska
Joyce Carol Thomas 
2005
J. California Cooper
Debra Ginsberg
Tess Uriza Holthe
Regina Louise
2006
Carol Field
Jeanne Wakatsuki Houston
Linda Peterson
Karen Joy Fowler
2007
Grace Caroll
Elizabeth Rosner
Lisa See
Joanne Weir
2008
Opal Palmer Adisa
Firoozeh Dumas
Cara Black
Emily Rapp
2009
Helen Zia
Marta Acosta
Clair Hope Cummings
Marie Simmons
Dorothy Clemens
2010
Bonnie Tsui
Michelle Richmond
Vivienne Sosnowski
Dana Whitaker
2011
Carolina De Robertis
Sara Houghteling
Vicki Ward
Jacqueline Winspear
2012
Bo Caldwell
Belva Davis
Nafisa Haji
Peggy Orenstein
2013
Patricia Powell
Susan Snyder
Sonia Taitz
Penny Warner
2014
Patricia Bracewell
Kelly Corrigan
Anjuelle Ford
Liz Jasper
2015
Katie Hafner
Yang Huang
Yiyun Li
Ann Parker
2016
Julia Flynn Siler
Adrienne McDonnell
Renee Swindle
Gail Tsukiyama
2017
Frances Dinkelspiel
Caille Millner
Terry Gooch Ross
Canyon Sam
2018
Faith Adiele
Dr. Arlie Russell Hochschild
Shanthi Sekaran
Mary Volmer
2019
Julie Lythcott-Haims
Vanessa Hua
Joyce Maynard
Anna Rabkin
2020
Paulette Boudreaux
Yangsze Choo
Elizabeth Farnsworth
Lauren Markham